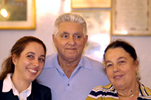 Sabatino, his wife and his daughter Aurora
In the early 1900s the premises were the site of the city's first pizzeria. It was a hang-out for the Romans of the historic center who found, at this family-run establishment, simplicity and genuine flavors. With the passing of time it became the place of reference for gourmets of every country, and counted among its patrons Winston Churchill, King Constantine of Greece, and King Farouk of Egypt.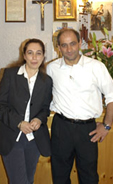 Daughter Aurora and her husband
Unmistakable flavors, recipes cooked up in respect of tradition, and past gestures renewed with patience and experience make this Roman restaurant the ideal place for meeting, discussing projects, and seeing friends. Since 1970 it has been run by Sabatino Pantalone and his wife Franca who, together with their family, receive their guests in a warm, friendly environment. Today as in the past, the restaurant is frequented by politicians and show business people, whom you might easily find seated at the next table.
The restaurant, which often remains open during after-theatre hours, is frequented by actors and personalities of the cultural world. Its patrons are both Italian and foreign. On the walls are the mementos of half a century of our country's history: black and white photos of the "Dolce Vita" Rome, the nostalgia-inducing years of music and theatre late into the night.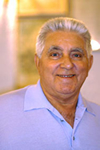 Sabatino Pantalone
Then there are the pictures sent by friends: the Norwegian ones, for example. And there are the mementos of American guests, the dedications written by show business personalities, and the official recognition of so many years of work: the appointment of Sabatino and Franca Pantalone as "Cavalieri della Repubblica". The organizational heart of the restaurant is Sabatino: he's the one who chooses the raw materials, selects suppliers, and verifies the observance of the best quality levels for each product. Rigor in his work seems to be his main characteristic. His real secret "ingredient" is his wife Franca, a lovely lady with a beaming, disarming smile ("That's what I married her for", Sabatino says proudly) who guarantees a warm, generous reception of every guest.
Sabatino Pantalone and a little granddaughter
Politeness and attention are her traits: she is the pulsating motor of the restaurant, capable of transforming a formal place into a sunny, comfortable environment. Supporting and sharing this project are Sabatino and Franca's children.It is a tradition that continues with new ideas, plans, and initiatives, but which keeps the desire to pass on and make known not only flavors of the past, but values of the past as well.